David Kalb Photography
Street Photography
On The Street – This Week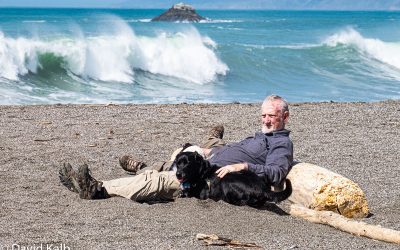 A man and his dog on the beach.  But wait, how many legs on the beach are there?  This is the type of situation I look for when shooing on the street.  One with some humor or irony. The Sonoma Coast, or any beach for that matter, is a great place to capture street...
read more
Street Photography by David Kalb
"What I most like about photography is the moment you can't anticipate: You have to be constantly watching for it, ready to welcome the unexpected".  Martine Franck
Street photography is an exciting component of my life. I've enjoyed photography since an early age. This fascination began by observing my Uncle Abe make family portraits in his studio and develop them in his darkroom. He was a professional photographer in every sense of the word, except it was a genuine hobby not his everyday profession.
I did not start out to become a street photographer; it found me. Like my Uncle, photography was a hobby; however, after selling my consulting business in 2012, I was able to devote more time, effort and resources to understanding the craft and developing my style.
With street photography, there's excitement in knowing that with each camera click, you have the potential of making a unique image that cannot be duplicated. A movement, a gesture, an expression; it's there one moment and gone the next. While much of photography involves skill, with street photography there's an element of luck and happenstance.
I think of "street photography" as a people safari.  You walk the streets of a city, town or village; urban or rural; with a camera, always keeping your eyes open for the unusual; the ironic; the poignant.  You never know what you might see a block away or around the next corner.  As one can observe in my galleries, this may be an older couple on a street corner in Linz, Austria; a man who surely inspired a wall mural in Santiago Cuba; or a vibrant redhead walking down Hollywood Boulevard.
People are sometimes aware of my presence.  Occasionally, I will engage the person and then ask if I can "take their picture".  Often the images are totally candid.   Regardless, the resulting photos reflect a mirror image of society.
My street photography has been exhibited twice at the International House (I-House) in Davis, California (2014 and 2016). The first show included images from Europe; the second consisted of people from major cities in the United States. My third show – The People of Cuba — was on view from May to August 2017 at Logos Books in Davis.
My work is featured on the Yolo Basin Foundation's website and FB page where I volunteer as a photographer for their Discover The Flyway educational program. I was a recent volunteer photographer for the I-House at their yearly International Festival Davis.  Several of my street images have been displayed at Viewpoint Photographic Art Center in Sacramento, where I maintain a portfolio drawer and volunteer as a docent.
Contact David through this website if interested in having him photograph an event for use in your publicity.
All featured photos are available for purchase and are personally printed to order.
Photograph Price List
Matted High Quality Archival Prints
8×10 $ 49
11×14: $ 99
16×20: $ 169
20×24: $ 225
24×36: $ 300
Premium Canvas Prints
11×14: $ 99
16×20: $ 169
20×24: $225
20×30: $300
30×40: $395
To purchase any of my photographs, please contact me through this website.